About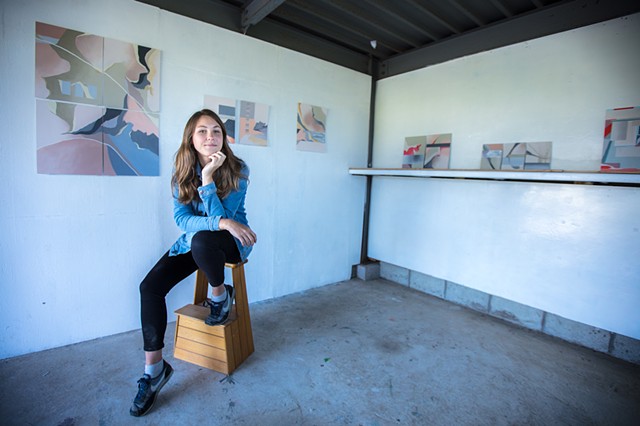 Rachel King is a Melbourne based multidisciplinary emerging artist whose work stems from a deep fascination with colour, composition and form. Particularly through painting, she examines the intuitive decision and indecision that is part of the creative process in the studio. She is fascinated by the creation of a language and internal logic that occurs in the stages between a blank canvas and a finished painting.
Rachel has a Masters degree in Arts Management and a bachelor degree in Fine Art. She hopes to continue exhibiting her work locally and internationally. Long term, she hopes to commit herself to a career in public programming and education within arts institutions.
Exhibitions:
•All will turn to Silver Glass, Itoshima Japan 22nd, 23rd April 2017
The Big Design Market, Royal Exhibition Building 4th, 5th and 5th of December 2015
'Inner Cirlce', Solo Show, First Site Gallery 11th – 23rd August 2015
'The Delusion Of Being Peaceful', Brixton Gallery, London 12th – 13th March 2014
M3', various artists, 76 County Street SE1 4AD London 10th – 11th March 2014
https://exhibitionm3.wordpress.com.
'Ex Ex', various artists, Chelsea College London 3rd – 5th December
2013


Arts Experience:
Installation of Michael Lins Exhibition at the National Gallery of Victoria July 2017
Volunteer with public programs at The Abbotsford Convent 2016 - Present
Volunteer at the Melbourne Museum 2015 - 2016
Volunteer at Gasworks Art Park Theatre, Albert Park August 2014 – 2016
Exhibition invigiliation at Climarte (Arts and Climate change festival) April – May 2015
Usher at The Melbourne Fringe Festival September 2013, 2014, 2016